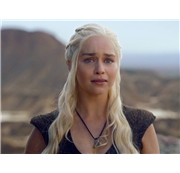 Yeni Game of Thrones bölümüni izlemediğiniz gün bölümde neler olduğuna dair spoiler almamak için internetten uzak durmak en iyisi. Bugüne kadar 6 sezon boyunca şık üzerinde şok yaşadık ve bir çok insan bunları sosyal medyada paylaştı.
Büyük Etkinlikler Gibi
Artık dizinin bölümleri sosyal medyada Superbowl ya da Academy Awards ödül töreni gibi. Neler olup bittiğini 10 dakika internette gezerek anlayabiliyorsunuz. Amerika dışında olan kullanıcılar zaten şanssız. Amerika'da bdizile farklı saat dilimlerinde olan kullanıcılar olduğu için sıkıntılar yaşanıyor. Ancak bunun için bir çözüm var. Stu Blair isimli birisi Game of Spoils adında bir uzantı geliştirdi. Uzantı diziden fotoğrafları siyaha boyuyor ve bu konuda ilginç bir şekilde başarılı.
Uzantının açıklamasına göre Facebook, Twitter, Reddit'te veya Google News'te yer alan spoilerlar uzantı tarafından fark ediliyor ve siyahla kaplanıyor. Uzantı Winterfell ya da Targaryen gibi dizi ile ilişkili terimleri de anlayabiliyor. Ancak ne yazık ki haber sitelerinde bu çeşit bir engelleme mevcut değil. Yani bazı sitelerde hala kendiniz kaçmak zorundasınız fakat sosyal medyanızın büyük bir çoğunluğu güvenli hale geliyor. Uygulamanın son güncellemesi ile beraber filtrelemeye kendiniz de kelime ekleyebiliyorsunuz. Böylece spoilerlardan kaçmak çok daha rahat oluyor.